New Loft Bathroom Showroom Now Open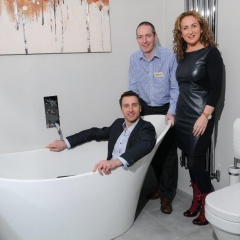 We have recently revamped out Loft bathroom showroom which showcases the very latest bathrooms available to the market.
Among the many unique products on display are:
The Geberit Aquaclean shower toilet - a WC toilet that cleans you with water and then dries you
The Arcade Piccadilly Freestanding Shower Temple
The Vibe Bluetooth mirror which can stream music from your iPhone through its speakers
The Arcade/Pashley bicycle with basin
A beautiful Copper bath
The lovely Nabbia slipper bath with integrated moulded seat
The Roca W&W washbasin & wc toilet combined.
Why not call in and see this stunning new showroom for yourself!